CLS faculty Dr. Dylan Miner appointed RCAH Dean
July 22, 2022
MSU Chicano/Latino Studies is happy to congratulate our affiliated faculty member Dr. Dylan Miner on his appointment as Dean of the Residential College in the Arts and Humanities at MSU. Dr. Miner is an artist, activist and scholar and a valued member of our community.
By Morris Arvoy, RCAH Director of Communications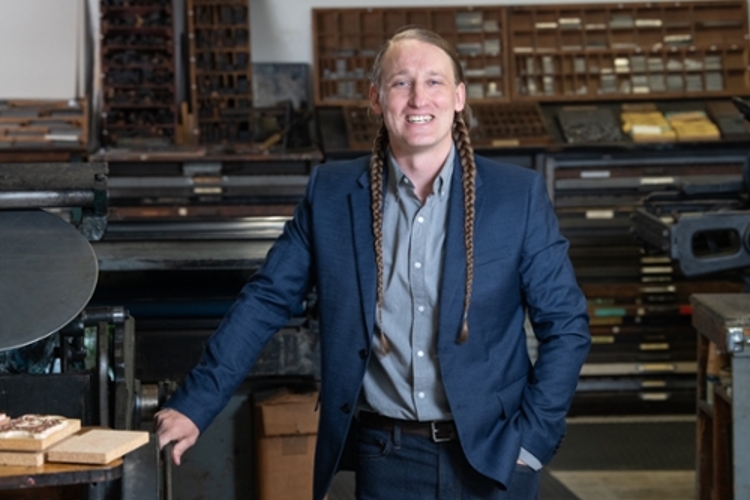 Dylan Miner, a founding professor in the Residential College in the Arts and Humanities (RCAH) at Michigan State University (MSU), has been appointed dean of RCAH by the MSU Board of Trustees. His appointment, confirmed by the Trustees at their meeting this morning, is effective July 1.
"Since assuming the role of interim dean a year ago, Dr. Miner has provided steady leadership for RCAH as faculty and staff undertake forward-looking initiatives that position the college for long-term success," said MSU Provost Teresa K. Woodruff, Ph.D. "His work within RCAH and across colleges has advanced collaboration and fostered synergies, all of which have added value to our community of scholars at MSU."
Miner will be the only professional, practicing visual artist serving as a dean at MSU.
"I am humbled to continue as dean in the coming years," Miner said. "Having been hired as an assistant professor in 2007 as part of RCAH's initial cohort of faculty, I remain committed to advancing the liberal arts at Michigan State University."
Highlights of Miner's tenure as interim dean during the 2021-2022 academic year include:
The College successfully navigated the return to in-person living, learning, and work as pandemic conditions warranted a move back to campus for most students and staff.
The College's year-long strategic planning process engaged all faculty and staff to envision the RCAH of the future in anticipation of implementing the recommendations over the next few years. The College will release its plan this summer.
RCAH's historical body of work in the area of diversity, equity, and inclusion (DEI), as well as social justice, continued to grow and engage more people and groups on campus, across Greater Lansing, and throughout Michigan, as well as internationally.
RCAH and the College of Engineering developed a new minor in Design Justice that—once approved this fall—will explore ways in which design and justice relate critically in the pursuit of sustainability. Discussions of additional career-focused, arts-infused majors and minors are ongoing.
Miner and the newly installed deans from MSU's two other residential colleges (James Madison College and Lyman Briggs College) amplified the symbiotic relationship among their acclaimed undergraduate learning communities.

 

S. News & World Report

 

ranks MSU No. 4—immediately behind Yale and ahead of Princeton and Michigan—and No. 1 among public universities for "learning communities."
RCAH and Lyman Briggs finalized plans to conduct a search for an 1855 Professorship in Arts and Climate Justice during the upcoming academic year.
With James Madison, RCAH developed and will host an Advancing Racial Equity and Advocacy (AREA) bridge program for incoming students this August.
As Miner looks to the future, he emphasized his commitment to ensuring that RCAH and MSU become a leader in what he calls the "Great Lakes Arts Ecology."
"As we move the College forward, I am committed to employing our undergraduate arts and humanities education to build a more just and equitable world," Miner said.
"The liberal arts, particularly those taught in a residential and transcultural context as in RCAH, are particularly necessary at this moment," Miner continued. "What makes RCAH and MSU unique is the manner that we ensure that graduates are career-ready yet ascertain these skills through a community-based and socially engaged curriculum. Community engagement and social justice are central to what makes the College unique and are indispensable to all world-class universities."
In offering praise at the time of his elevation to interim dean, Woodruff observed that Miner is committed to curriculum development, student success, and DEI—and noted his service on the University's Diversity, Equity, and Inclusion Steering Committee at the request of President Stanley.
Born and raised in Michigan, Miner is a citizen of the Métis Nation of Ontario. He is a prolific artist, activist, and scholar who earned his Ph.D. in art history from the University of New Mexico. His book Creating Aztlán: Chicano Art, Indigenous Sovereignty, and Lowriding Across Turtle Island was published by the University of Arizona Press. Miner's scholarly writing also has been published and distributed by Duke University Press, Yale University Press, Oxford University Press, and Michigan State University Press, among others.
As an artist, Miner has hung more than two dozen solo art exhibitions and participated in more than 115 group exhibitions throughout his career. He is a founding member of the artist collective Justseeds. His most recent solo exhibition was entitled These Conditions Can Be Changed at the Workers Arts & Heritage Centre in Hamilton, Ontario, in 2020.
"We fully support Provost Woodruff's recommendation that Dylan Miner become RCAH's dean," said Associate Professor Tama Hamilton-Wray, RCAH's Faculty Excellence Advocate and a member of the Faculty Advisory Committee during Miner's tenure as interim dean. "The way in which he works tirelessly to connect with and navigate the needs and aspirations of the many constituents of RCAH—students, their families, staff, faculty, and other communities—is remarkable."
"Over the past year as interim dean, we have seen Dean Miner demonstrate tremendous leadership qualities and face every challenge with grace and great discernment," Hamilton-Wray continued. "His forward-thinking, progressive ideas will assure RCAH's future growth and status as a destination college. Finally, the fact that Dylan's background combines the arts, scholarship, and social justice definitely is a bonus for RCAH and MSU."