Lifetime Advocate Awards honor legacy of support of Chicano/Latino Studies
May 15, 2023 - Karessa Weir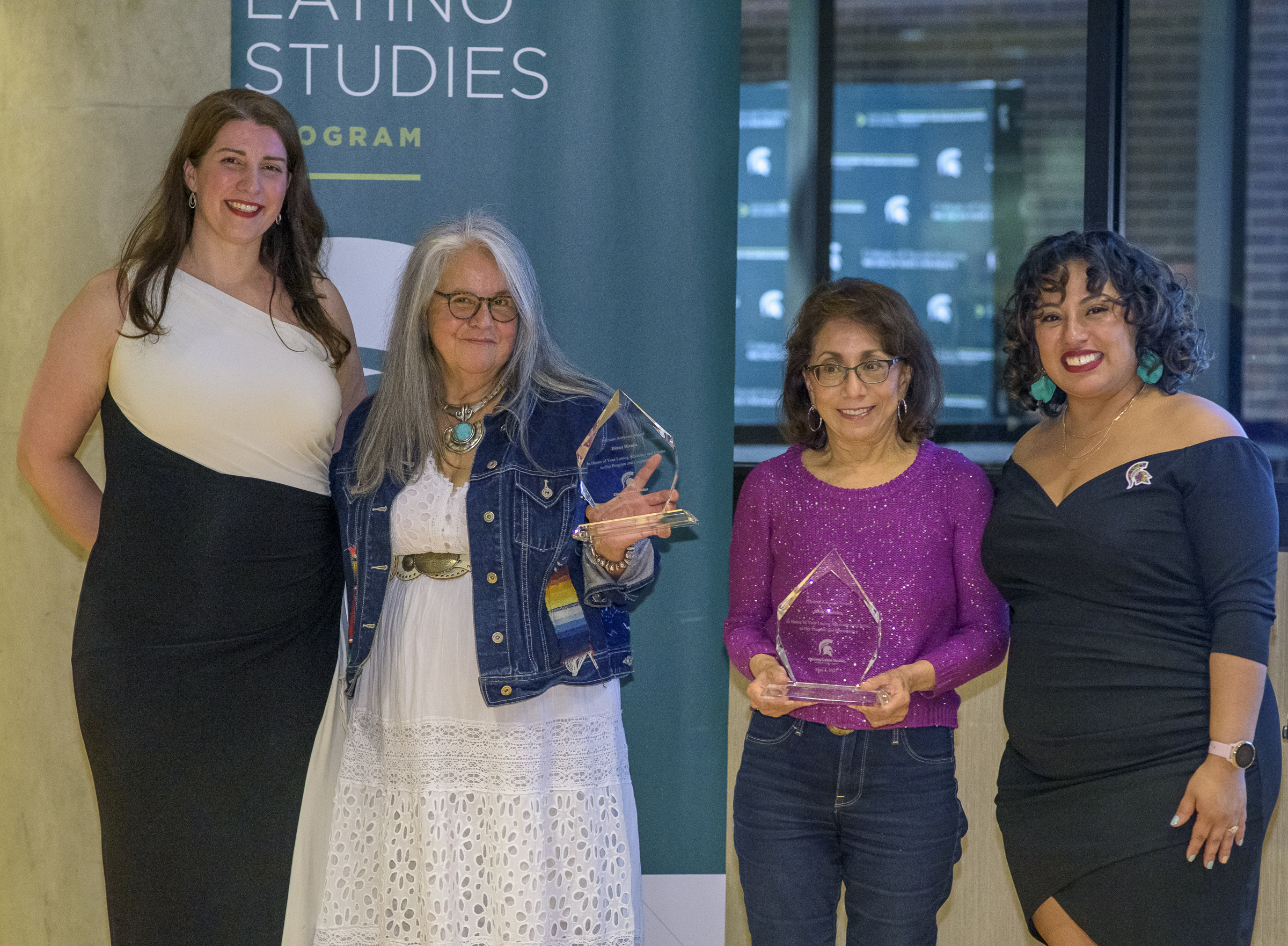 From their rallies and marches in the 1960s to their support and advice to students in Chicano/Latino Studies program today, four longtime CLS associates - Diana Rivera, Rosa Morales, and Juan and Diana Marinez -  were honored with Lifetime Advocate Awards.
"While we are celebrating 25 years as an official program, we know that Chicanx and Latinx folks at MSU have been advocating for more representation for our communities on this campus, for faculty members who teach Chicano and Latino Studies, and for more resources for this often underserved community for over fifty years!," said CLS Director Dr. M. Isabel Ayala. 
"And it was not just that they did these actions 50 years ago and then left, but rather they have been staple members of our community ever since."
After completing degrees at Michigan State, they were also on a task force that is responsible for the creation of the Chicano/Latino Studies program at MSU; hire a Chicano/Latino Studies Librarian, Diana Rivera and now Andrea McMillan-Salazar, and  build a collection at the library, the Cesar E. Chavez Collection.  
"In addition to their work that helped us obtain those staple resources, they were also involved in preserving our history to ensure that our long legacies here on MSU would not be erased, but instead available for generations to come. They did this through the building of the Jose Treviño Chicanx Latinx Activism Collection at MSU Libraries as well," said Dr. Delia Fernandez-Jones, Undergraduate Program Coordinator for CLS.
These individuals all still serve their community with their involvement with Latino Leaders for the Enhancement of Advocacy (LLEAD)  a community advocacy organization that they have founded recently.
"They are also always there when we call in need of advice or help with students," Dr. Fernandez-Jones said.
Award winners are:
Diana Rivera, CLS Librarian Emeritus and one of the founders of Chicano/Latino Studies and the Cesar Chavez collection at the MSU Library. 
Rosa Morales,

journalist and educator who attended MSU in the late 60s and early 70s. She was among the students who created the first Chicano group on campus, called MASS (Mexican American Students at State). They advocated for more recruitment of Chicanx and Latinx students to MSU. 
Juan and Diana Marinez. Juan is the

retired Assistant Director of the MSU Cooperative Extension and also a founding member of the Chicano/Latino Studies program.

Diana I. Marinez was a co-founder of the women's organization Mujeres Unidas de Michigan established in 1975. She was also active with the Michigan Women's Historical Center. Marinez earned her PhD in Biochemistry at Indiana University in 1971 and joined the MSU faculty in 1971.