I am Amanda and I am a Spartan
March 23, 2022 - Ellen Doepke and Deon Foster
A proud daughter of migrant farmworkers from Texas, Amanda Flores is a doctoral candidate in the higher, adult and lifelong education program with a graduate certificate in Chicano/Latino studies. Coming to Michigan State University has afforded her the opportunity to explore the connection between the university and the state of Michigan's history with migrant farmworkers.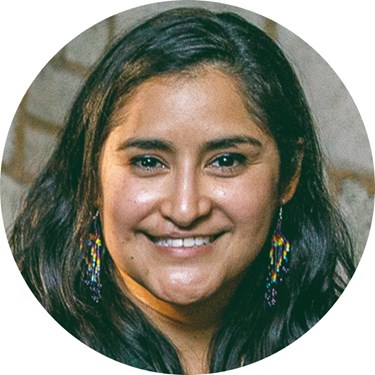 "Never stop yourself from asking questions that pique your curiosity or from exploring the sounds and sights around you, as they may illuminate what is hard to hear and see," Flores says. "Be willing to expand your mindset, the Spartan way!"
The Chicano/Latino studies program office makes Flores feel at home on campus. The program offers students a communal space to build a Spartan familia. It is also one of the reasons she says she made it through her first year of doctoral work.
"The discussions in my classes with my graduate colleagues always leave me feeling empowered and refueled to critically challenge my own research approaches to more closely align them with my cultural and familial values," she says. "I bring these lightbulb moments into my graduate work and research."
Flores received the graduate student leader award from Delta Tau Lambda, a Latina-based sorority, in recognition of her efforts to create a welcoming environment for Latinx doctoral students. However, she says she earned this achievement in community with other Latinx doctoral students, specifically her group of doctoral Tejanas at MSU.
"We supported one another in our individual efforts to navigate the doctoral journey as first-generation college students and daughters of immigrants. These awards are in recognition of the time and labor that my antepasados [ancestors] have contributed to making MSU a more welcoming home for future Chicanos."